Website Speed Battle: Comparing W3 Total Cache to WP Super Cache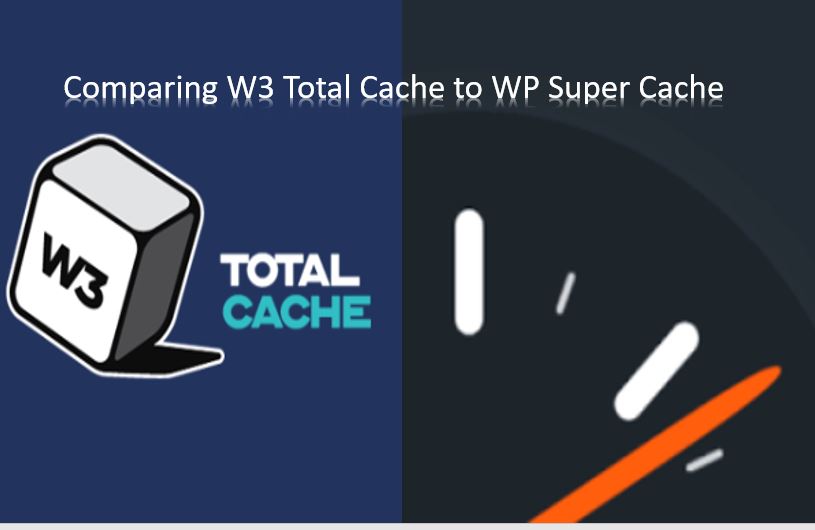 Introduction
In the fast-paced digital world, website speed plays a crucial role in user satisfaction and search engine rankings. Caching plugins are the go-to solutions for optimizing website performance. Among the most popular options are W3 Total Cache and WP Super Cache. In this detailed comparison, we'll explore the key features, benefits, and differences between these two plugins, helping you make an informed decision for your website's caching needs.
W3 Total Cache: Unleashing Ultimate Website Speed
W3 Total Cache is a robust caching plugin that offers a myriad of features aimed at boosting your website's speed and performance. With its comprehensive set of tools, W3 Total Cache optimizes various elements, including HTML, CSS, JavaScript, and images, resulting in faster page loading times.
Key Features of W3 Total Cache
Page Caching: W3 Total Cache creates static HTML files for your dynamic WordPress pages, reducing server load and improving load times.
Browser Caching: By instructing browsers to store static assets, like images and scripts, users experience quicker page loads upon revisiting your site.
Database Caching: This feature minimizes database queries, enhancing overall performance and responsiveness.
Minification: W3 Total Cache compresses and combines CSS and JavaScript files, reducing their size and improving load times.
Content Delivery Network (CDN) Integration: Seamlessly integrate with popular CDNs to distribute content across multiple servers, further enhancing load times.
WP Super Cache: Simplicity Meets Efficiency
WP Super Cache is renowned for its user-friendly approach to caching, making it an ideal choice for beginners. While it might not have the extensive feature set of W3 Total Cache, it excels in its ease of use and effectiveness.
Notable Features of WP Super Cache
Simple Caching: WP Super Cache offers two caching modes – simple and expert. The simple mode is beginner-friendly, requiring minimal configuration.
Static File Caching: HTML files are cached and served directly to users, reducing the load on your server and enhancing website speed.
Garbage Collection: The plugin automatically cleans up outdated cache files, ensuring your site's data stays up to date.
CDN Support: WP Super Cache seamlessly integrates with CDNs to efficiently distribute content and boost load times.
Comparing the Two: W3 Total Cache vs. WP Super Cache
When deciding between W3 Total Cache and WP Super Cache, consider your website's complexity, your technical expertise, and your desired level of control. If you're comfortable with advanced settings and seek ultimate optimization, W3 Total Cache might be your best bet. On the other hand, if simplicity and ease of use are your priorities, WP Super Cache could be the perfect fit.
FAQs
Q: Which caching plugin is better for a beginner? Both plugins have their merits, but WP Super Cache's user-friendly interface makes it an excellent choice for beginners who want to optimize their site's speed without delving into complex settings.
Q: Can I use a CDN with these caching plugins? Yes, both W3 Total Cache and WP Super Cache support CDN integration, allowing you to distribute your website's content across multiple servers for faster loading times.
Q: Will using these plugins eliminate the need for other speed optimization techniques? While caching plugins significantly enhance speed, other optimization techniques like image compression and minimizing HTTP requests can further improve your website's performance.
Q: Is one plugin significantly faster than the other? The speed improvement largely depends on your website's specific configuration and your chosen settings. Both plugins are effective in their own right.
Q: Can I switch from one plugin to another without issues? Switching between caching plugins is possible, but it's recommended to clear your cache before making the switch to prevent conflicts and ensure a smooth transition.
Q: Do these plugins have any impact on mobile site speed? Absolutely. Faster loading times, facilitated by caching plugins, positively impact user experience on both desktop and mobile devices.
Conclusion
When it comes to optimizing your website's speed and performance, choosing the right caching plugin is a critical decision. W3 Total Cache and WP Super Cache cater to different user preferences and technical levels. W3 Total Cache offers an array of advanced features for those seeking ultimate optimization, while WP Super Cache provides a simple and effective solution for beginners. By understanding your needs and considering the features of each plugin, you can make an informed choice that elevates your website's performance and user experience.