How to Create a Subdomain on GoDaddy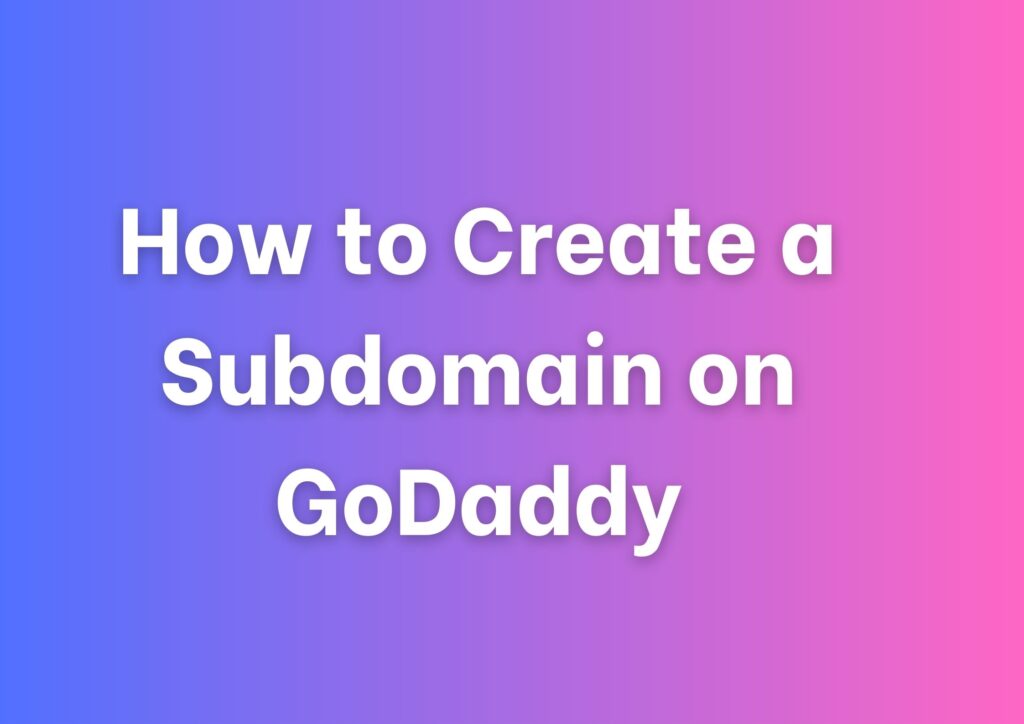 Introduction
Creating a subdomain can be a valuable asset for your website's organization and user experience. With GoDaddy, one of the leading domain registrars and web hosting platforms, the process is straightforward. In this guide, we'll walk you through the steps to create a subdomain, ensuring your online presence remains coherent and accessible.
How to Create a Subdomain on GoDaddy
Let's dive into the process of creating a subdomain on GoDaddy. Whether you're looking to segment your content, set up a blog, or create distinct sections for your website, these steps will help you achieve your goal.
Step 1: Log in to Your GoDaddy Account
Log in to your GoDaddy account using your credentials. If you don't have an account, you can easily create one by following the on-screen instructions.
Step 2: Access Your Domains
After logging in, navigate to the "Domains" section. Here, you'll find a list of your registered domains. Select the domain for which you want to create a subdomain.
Step 3: Manage Subdomains
Within the domain settings, locate the "DNS Management" option. Click on it to access the DNS management page.
Step 4: Add a Subdomain
Scroll down to the "Subdomains" section and click on the "Add Subdomain" button. Enter your desired subdomain name, such as "blog" for a blog subdomain.
Step 5: Configure Subdomain Settings
Once you've entered the subdomain name, you can configure additional settings, such as the subdomain's document root directory and FTP user. Adjust these settings based on your website's requirements.
Advantages of Using Subdomains
Subdomains offer several advantages that can enhance your website's functionality and user experience:
Content Organization: Subdomains allow you to categorize and organize different types of content, making it easier for users to find what they're looking for.
Improved SEO: Subdomains can help you target specific keywords and improve your website's search engine optimization.
Easy Management: Managing separate subdomains is more straightforward than dealing with entirely separate domains.
Enhanced Security: You can implement different security measures for your subdomains, isolating them from your main domain.
FAQs
Q: Can I create multiple subdomains for different sections of my website?
A: Absolutely! GoDaddy allows you to create multiple subdomains, each with its own distinct content and functionality.
Q: Will creating subdomains affect my main domain's SEO?
A: Subdomains are considered separate entities, so any impact on SEO is isolated to the subdomain. Proper optimization can lead to positive results.
Q: Can I change the subdomain settings after creation?
A: Yes, you can modify subdomain settings at any time by accessing the DNS management page in your GoDaddy account.
Q: Do I need separate hosting for subdomains?
A: Not necessarily. Subdomains can share the same hosting resources as your main domain, making it a cost-effective solution.
Q: Can I delete a subdomain if I no longer need it?
A: Yes, you can delete subdomains whenever you want, freeing up resources and keeping your domain management streamlined.
Q: Is there a limit to how many subdomains I can create?
A: GoDaddy's limits vary based on your hosting plan, but in most cases, you can create a significant number of subdomains.
Conclusion
Creating a subdomain on GoDaddy is a simple yet powerful way to organize your website and enhance user experience. With these steps and insights, you're equipped to create and manage subdomains effectively. Whether it's for a blog, a portfolio, or a dedicated section, subdomains offer flexibility and improved organization for your online presence.