How to Transfer Web Hosting from One Company to Another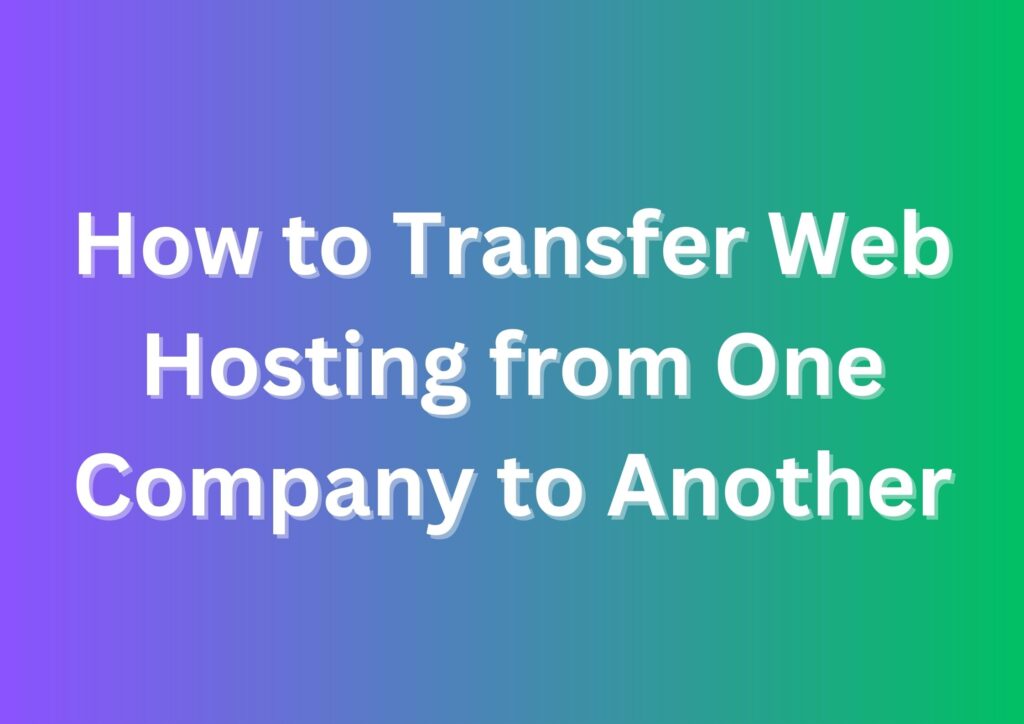 Introduction
Transferring your web hosting from one company to another might seem like a daunting task, but with the right guidance, it can be a straightforward process. Whether you're looking for better performance, more features, or improved customer support, this guide will walk you through the entire procedure. In this article, we'll cover everything you need to know about how to transfer web hosting from one company to another.
Transferring your website's hosting involves migrating all your website's files, databases, and configurations to a new hosting provider. This can be a critical decision, as a poorly executed transfer can lead to downtime, data loss, and a negative impact on your website's SEO. To ensure a smooth transition, follow these step-by-step instructions:
Step 1: Choose a New Hosting Provider
Before you start the transfer process, research and select a new hosting provider that meets your requirements. Look for features such as disk space, bandwidth, security measures, and customer support. Popular hosting providers like Bluehost, SiteGround, and HostGator offer reliable services.
Step 2: Backup Your Website
Create a full backup of your website's files, databases, and any other important data. This backup ensures that you have a copy of everything in case of any unexpected issues during the transfer process.
Step 3: Upload Files to New Hosting
After signing up with your new hosting provider, access your account's cPanel or dashboard. Use an FTP client to upload your website's files to the new server. Make sure to maintain the same directory structure.
Step 4: Export and Import Databases
Export your website's databases from the old hosting provider's control panel. Import these databases into the new hosting provider's control panel. Update the database configuration files with the new database credentials.
Step 5: Update Domain DNS
Log in to your domain registrar's account and update the DNS records to point to the new hosting provider's nameservers. This step might take some time to propagate across the internet.
Step 6: Test and Troubleshoot
Before canceling your old hosting account, thoroughly test your website on the new server. Check for broken links, missing files, and functionality issues. If you encounter any problems, troubleshoot and fix them.
Step 7: Cancel Old Hosting
Once you're confident that your website is functioning correctly on the new hosting, you can cancel your old hosting account. Keep a backup of your old hosting account's files and data for a while, just in case.
Exploring Key Considerations
Data Security and Privacy
During the transfer process, ensure that your data remains secure and private. Opt for a hosting provider that offers SSL certificates, robust security features, and regular data backups to safeguard your website.
SEO Impact
A poorly executed transfer can negatively affect your website's SEO rankings. To mitigate this, ensure that your new hosting provider offers fast loading times, reliable uptime, and proper server configurations.
Technical Support
Choosing a hosting provider with excellent customer support is crucial. In case you encounter technical issues during the transfer, having reliable support can make the transition smoother.
Also Read: How to Copy Content from One WordPress Site to Another
FAQs
Q: Can I transfer my domain name along with my web hosting?
A: Yes, you can transfer both your domain name and web hosting to a new provider. However, keep in mind that domain transfers might involve additional steps and domain transfer fees.
Q: How long does the transfer process usually take?
A: The transfer process can vary in duration depending on factors such as the size of your website, the efficiency of the hosting providers, and DNS propagation. It might take a few hours to a couple of days.
Q: Do I need to have technical knowledge to transfer hosting?
A: While technical knowledge can be helpful, many hosting providers offer step-by-step guides and customer support to assist with the transfer process. You don't necessarily need advanced technical skills.
Q: Can I transfer hosting if my website uses a CMS like WordPress?
A: Absolutely. Many hosting providers offer specialized tools and services to help you migrate your WordPress website seamlessly. These tools often handle file transfers and database migrations.
Q: Will there be any downtime during the transfer?
A: Ideally, you should aim to minimize downtime during the transfer. By following best practices and testing your website on the new server before making the switch, you can reduce downtime to a minimum.
Q: What should I do if I encounter issues after the transfer?
A: If you face any issues after the transfer, don't panic. Contact the customer support of your new hosting provider for assistance. They should be able to help you troubleshoot and resolve any problems.
Conclusion
Transferring web hosting from one company to another is a process that requires careful planning and execution. By following the steps outlined in this guide, you can minimize disruptions, ensure data integrity, and maintain a positive online presence. Remember, the choice of a new hosting provider plays a significant role in the success of this transition. With the right provider and a well-executed plan, you can smoothly migrate your website and continue delivering a seamless user experience to your visitors.